I started playing bass back in high school when a couple friends and I decided to start a band. It was either bass or sing. Thankfully for everyone's ears, I went with the bass :)
My late high school years and into college helped me to discover my musical identity. This is when I discovered a whole new world of music: Dream Theater, Rush, Opeth, Michael Manring, and lots of other progressive rock/metal bands. I loved finding new bands or even an older band but new to me.
After college, I drifted apart with my musical side and stopped playing bass nearly all together. I still enjoyed music but it wasn't the same.
It wasn't till 2007 that I realized I needed a change and wanted to re-connect with that old me. So I started playing bass again and discovering new music. I still enjoy the progressive rock but in the last few years, I've expanded my listening spectrum to all kinds of rock and metal. Everything from Dredg, Porcupine Tree and Mew to Machine Head, Gojira and Soulfly. I've come to appreciate music in a more mature manner. Just like in life, you need diversity. Sometimes you need mellow, sometimes aggression, sometimes corny happy, and sometimes crazy technical metal!
-Gabe
Latest influences:

Devin Townsend
Porcupine Tree
Dredg
Alice in Chains
Pink Floyd
Machine Head
Gear:
Yahama RBX 5-string
Carvin BX1200 amp
Zoom B9.1ut Bass Effects Console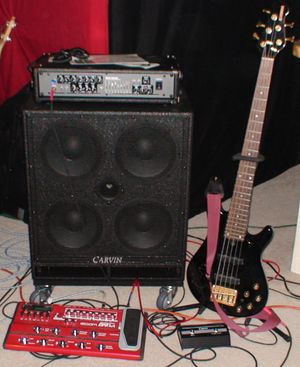 _____________________________